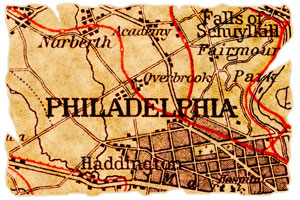 Philadelphia became home to the nation's first bank, stock exchange, hospital, zoo, and free library, and its open spaces gradually disappeared as it evolved into an industrial center of almost two million people. It enjoyed a short period of prosperity during World War II, but the twentieth century saw the decline of its manufacturing centers, and the issues of poverty and urban decay rose to the forefront. The 1960's brought soaring crime and unemployment, and racial riots broke out throughout much of the city. In 1983, Philadelphia's first black mayor, W. Wilson Goode, started a city wide cleanup and restoration campaign which still continues today.

Philadelphia boasts beautifully restored neighborhoods as well as world-class restaurants, museums and colleges and universities, but much of the city still suffers from poverty, poor schools, and high unemployment. Visitors can take a walking tour of the city's historical sights beginning at Penn's Landing or enjoy 100 miles of jogging and cycling paths along the Schuylkill River. Philadelphia is also known for its professional sports teams and takes pride in its Eagles football team, Phillies baseball team, Flyers hockey team, and 76ers basketball team. The city is easily reachable by car, bus, train, or air to Philadelphia International Airport.

Independence Hall in Philadelphia, Pennsylvania.

This Philadelphia directory provides convenient access to a broad spectrum of enterprises that are located in Philadelphia, Pennsylvania. In-depth information and news about Philadelphia can be found on these regional Philadelphia Libraries and Philadelphia Newspapers pages, respectively. Visitors to Philadelphia will find this Philadelphia Travel and Tourism website useful.
---
Copyright © 2012-2023 Zeducorp.
All rights reserved.

Interactive Maps of Philadelphia